Frank Diaz Memorial Golf Outing
September 23, 1999, Kemper Lakes
Sponsored by Tivoli Systems
The fourth annual Frank Diaz Memorial Golf Outing was held September 23, 1999 at Kemper Lakes in Long Grove. Named in memory of Frank Diaz, co-founder of the Chicago Research and Planning Group and an avid golfer, the outing allowed CIOs and Vendor participants come together for recreation and networking.
The 1999 outing was sponsored by Tivoli Systems. Tivoli was founded to ensure that enterprise-wide computing offers companies a strategic advantage. As a result, Tivoli Management Software has become the standard for managing network computing. Tivoli Management Software products are developed in cooperation with leading hardware and systems software vendors.
During registration, and a continental breakfast, many went to the driving range to warm up and take advantage of the perfect weather. At Kemper Lakes, Championship golf is only the beginning. The host of major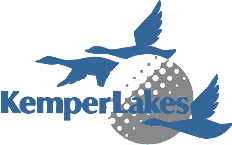 championship events, Kemper Lakes is unsurpassed in tournament class golf outings. Host of the 1989 PGA Championship, The Grand Slam of Golf and the 1992 U.S. Women's Amateur, Kemper Lakes also welcomes the Senior PGA Tour as the site of the Ameritech Senior Open. The golf course layout is on 325 acres surrounded by 1500 acres of lakes, fields and forest making the northwest suburban complex one of the finest facilities to host events of high magnitude.
After lunch, it was time to golf! After a brief statement by Richard Arns, CRPG's Executive Director, over 100 golfers fifty golf carts took off for various points on the course. To help keep order, Kemper's Pro, Emil Esposito, doubled as traffic cop. Real traffic cops have no problem - Emil is keeping his day job!
CRPG constantly tries to bring it's members technology demonstrations. With over 100 members spread over 325 acres was a perfect place to demonstrate wireless technology and the
wireless lifestyle. Research in Motion (RIM) provided each foursome with a pager that, in addition to having the normal email capability, was loaded with special golf software that kept track of the current standings. Someone in each foursome would transmit the score after each hole and the current standings would be periodically transmitted back.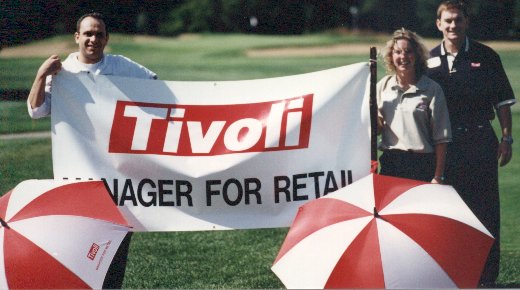 Most holes had a sponsor or event. Companies who sponsored a hole were: Tiivoli Systems, Tivoli Data Protection for Workgroups, Tivoli Storage Manager, Tivoli Vision Group, Tivoli Global Enterprise, Keylink (Tivoli Storage Manager Distributor), Maryville Technologies, Enterworks, and Grant Thornton (sponsoring the Greg Norman One-On-One Video Analysis) .
Many items were given away from umbrellas to a trip to Pebble Beach. A few holes were very popular, the tenth were Grant Thornton sponsored the Greg Norman One-On-One Video Analysis. A video was taken of each players swing simultaneously from three directions. Later it would be analyzed by Pro Greg Norman and the video, along with comments would be sent back to each participant.
The third hole offered an opportunity to win a car. All it took was a hole-in-one! Motorwerks provided a Porsche again this year but, someone almost won it! Although there were many fish stories about how close to the hole the shot was (ranging from hitting the rim to 2" away) someone came within a foot of the hole. Close is only good in horse shoes and hand grenades so the car went away ownerless.
Many non-golfers came later to join the festivities. Cocktail hour started in the clubhouse and grew larger as the course emptied. Here was an ideal time to talk about the day's events, networking or just unwinding. Groups talked about many subjects and many new contacts were made.
After dinner was a presentation by the evening's speaker, Charlie Feld.
Charlie Feld and his associates formed The Feld Group, a unique group of "for hire" CIOs. Their mission is to "jump start" the transformation of an ISS organization by building application, technology and organization competency, find their replacements, pass the baton and then move on.
Currently serving as Chief Information Officer for Delta Air Lines he is responsible for day-to-day development and operation of Delta's wholly owned subsidiary, Delta Technology, Inc. DT provides all of Delta's information technology, including its Year 2000 initiative, "Mission Possible".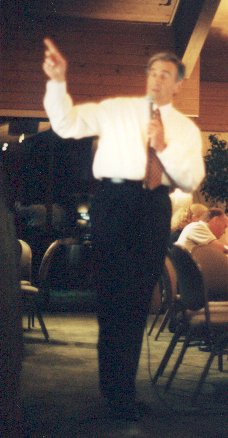 Mr. Feld was previously Senior Vice President/Acting CIO at Burlington Northern Santa Fe Railroad after the merger of the two companies, and had been Acting CIO at BN before then. Prior to forming The Feld Group, Mr. Feld was Vice President of MIS at Frito-Lay, Inc., the world's leading marketer and manufacturer of snack food. He and his Frito-Lay team won the Carnegie Mellon Award for Innovative Technology, the Society for Information Management Partners in Leadership Award, and the Smithsonian Award for Technology Excellence.
Mr. Feld recently founded the Center for IT Leadership, a "university" devoted to building the next generation of CIOs and IT Leaders. The Center will offer business, technical, management and leadership training, enabling him to develop the kind of "tough-minded optimists" needed to lead IT organizations today
The theme for Charlie's presentation was Building High Impact Information Technology. The specific topics he covered were: The e.Environment, The Delta Airlines Story, and The Role of Enterprise Systems Management.
Finally it was time for Darby Gelo to present the awards for the day, both for the winners and losers.
The only loser had to be Motorwerk's Al Stoll. He was the winner of a special competition for whoever shot closest to the water. Since there is now one of Al's balls permanently enshrined at the bottom of a pond, Al was awarded a life preserver to put on his golf ball. Too bad Al skipped out before the announcement of this award! We promise that no one would hear about it.
With the weather cooperating and the fine facilities of Kemper Lakes, the only losers were those who did not attend. CRPG would like to continue this again next year with more golf outings.
---
The Chicago Research & Planning Group is a 200+ member organization of CIO's from in and around the Chicagoland area. CRPG symbolizes the voice of corporate America and its many uses of technology. Our members are a who's who of top information technology executives from the world's leading companies.
---
The Chicago Research & Planning Group is a 200+ member organization of CIO's from in and around the Chicagoland area. CRPG symbolizes the voice of corporate America and its many uses of technology. Our members are a who's who of top information technology executives from the world's leading companies.
E-mail info@crpg.org
Chicago Research & Planning Group.
PO Box 226
Willow Springs, Illinois 60480
Phone 312 609-6500
Fax 847 227-6025
Copyright © 2001 [Chicago Research & Planning Group]. All rights reserved.
Revised: September 26, 2001 .